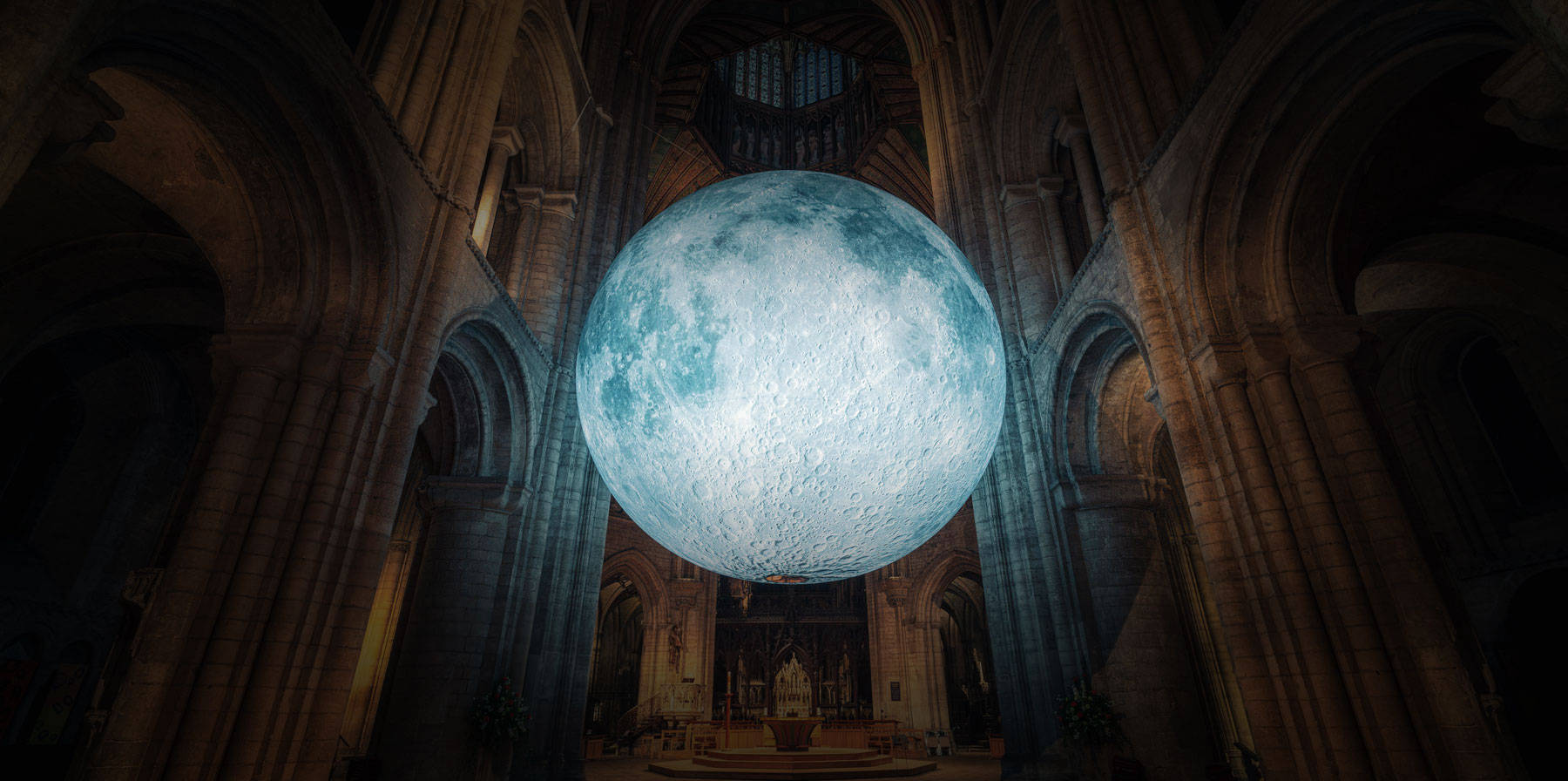 © Photo by James Billings
The Culture House presents
at Grimsby Minster
Follow @theculturehousegy for updates
Grimsby based arts and culture organisation The Culture House welcomes you to experience Museum of the Moon, a now famous touring art installation by UK artist Luke Jerram.
Having been seen at locations world-wide, Museum of the Moon is now being hosted in Grimsby, together with associated programme of activity including awe-inspiring and fun light-based performances.
Measuring seven metres in diameter, this large scale moon featuring detailed NASA imagery of the lunar surface, will be installed in Grimsby Minster for a month and is free to view.
The installation brings together lunar imagery, 'moonlight' and a surround sound composition created by BAFTA and Ivor Novello award winning composer Dan Jones.
Visitors can also enjoy tasty offerings from Grimsby Minster's newly refurbished cafe, open Tuesday to Saturday from 9.30am until 2.30pm and learn more about this 12th century building.
A series of ticketed events inspired by the moon will take place across the month, including spoken word, live music, talks and theatre.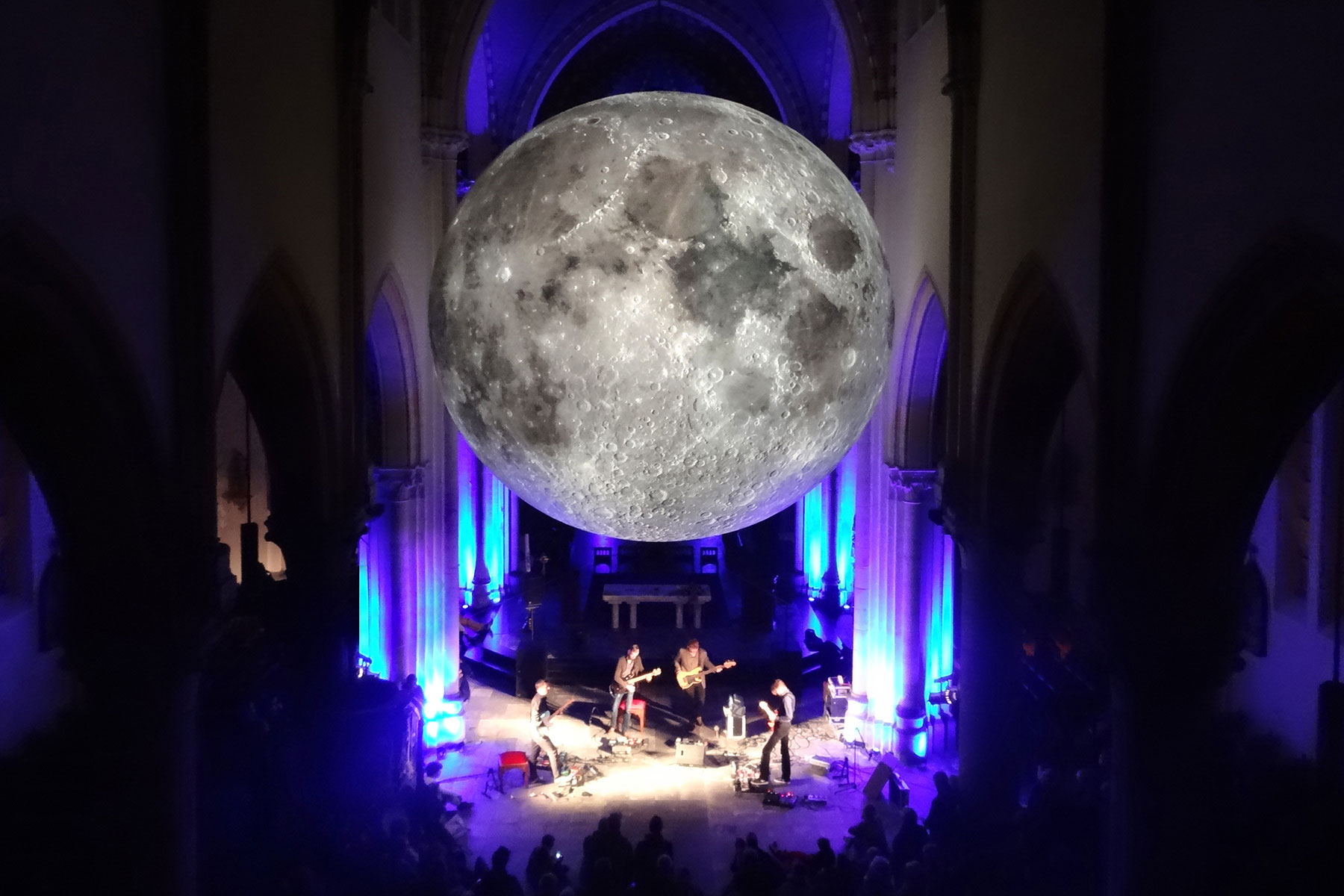 Charlotte Bowen, Culture House director said:
"We're thrilled to be presenting this large-scale installation in Grimsby, in partnership with Grimsby Minster.
"It's proven to really engage audiences with a sense of awe and wonder around the world – thanks to funding from Arts Council England and North East Lincolnshire Council, plus support from Without Walls, we are now able to bring it closer to local residents.
"The Minster itself is a beautiful community space and the perfect location to host it as well as host a series of events in conjunction."
Luke Jerram said:
"I wanted to make the artwork seem as authentic and realistic as possible. For most people this will be their most intimate, personal and closest encounter they will ever have with the Moon.
As a child I always wanted a telescope so I could study the Moon and the night's sky. Now with my own Moon, I can fly there, study every detail and share this experience with the public".
Please see our Museum of the Moon events programme below. We are offering a range of activities and experiences for all ages, from mind-blowing science-based theatre to open mics exploring where we go from here and from live music celebrating Grimsby's talent to Bright Lights, when visiting artists will bring us some cheer.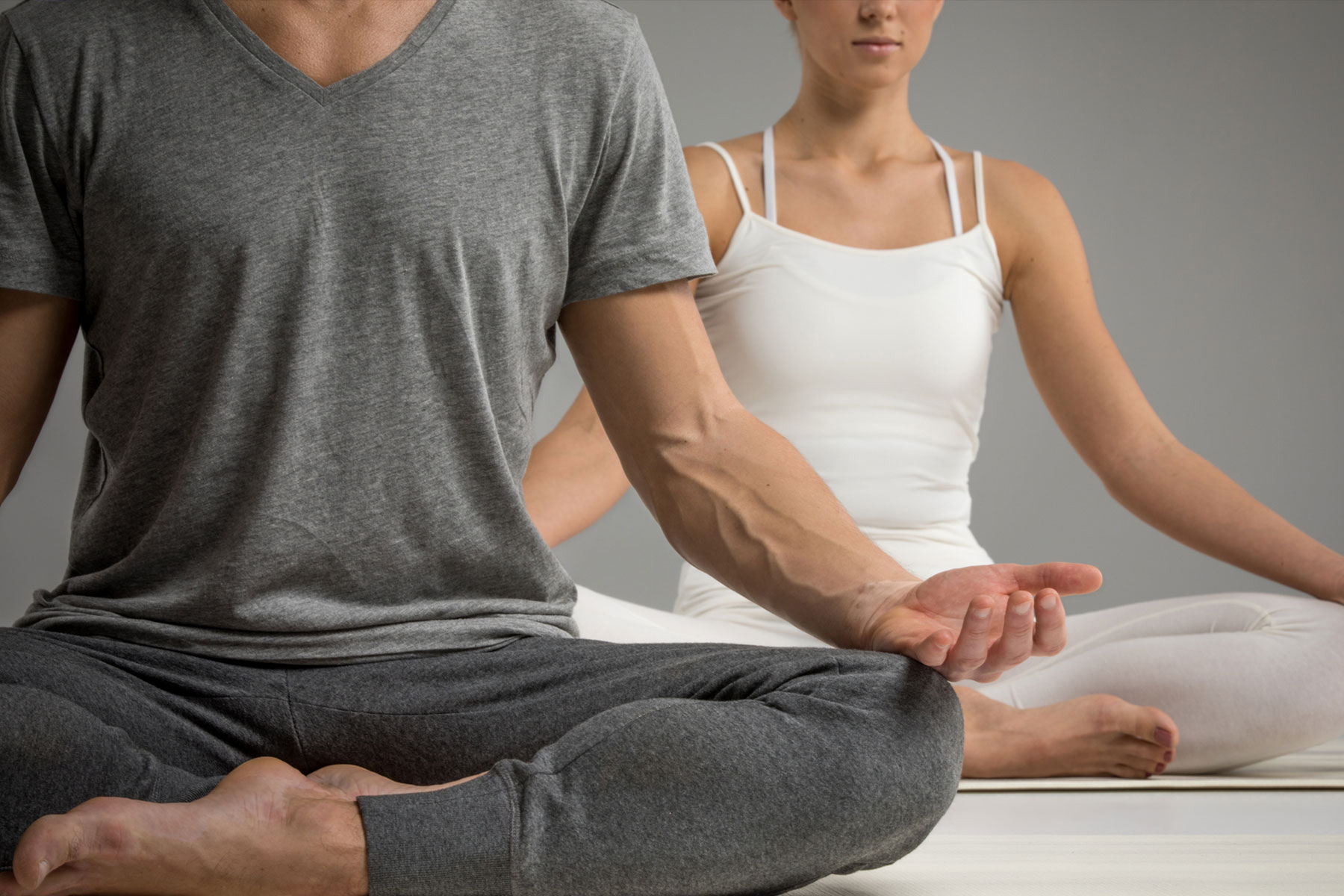 Grimsby Minster 7pm – 9pm. Age 16+. FREE – advance booking required.

Our official Museum of the Moon launch evening falls on a Full Moon!
The Full Moon of each month has a unique name that dates back to Native American Tradition. This month's is known as the Beaver Moon or Frost Moon. It's called The Beaver Moon as it falls around the same time as when hunters would set traps for beavers, capturing them for their fur ahead of the chilly winter season. Similarly, it is known as the Frost Moon because it falls when temperatures start to drop.
Not only that, 19 November will also see a partial lunar eclipse, which NASA says will be the longest eclipse of the century, lasting more than three hours!
Join us at Grimsby Minster for an evening of well-being and relaxation as popular local Yoga teacher Claire Roach guides you through simple yoga and meditation techniques accompanied by relaxing sounds of the hand-pan from Amy Naylor. Also enjoy mulled wine and other refreshments to welcome in the new season.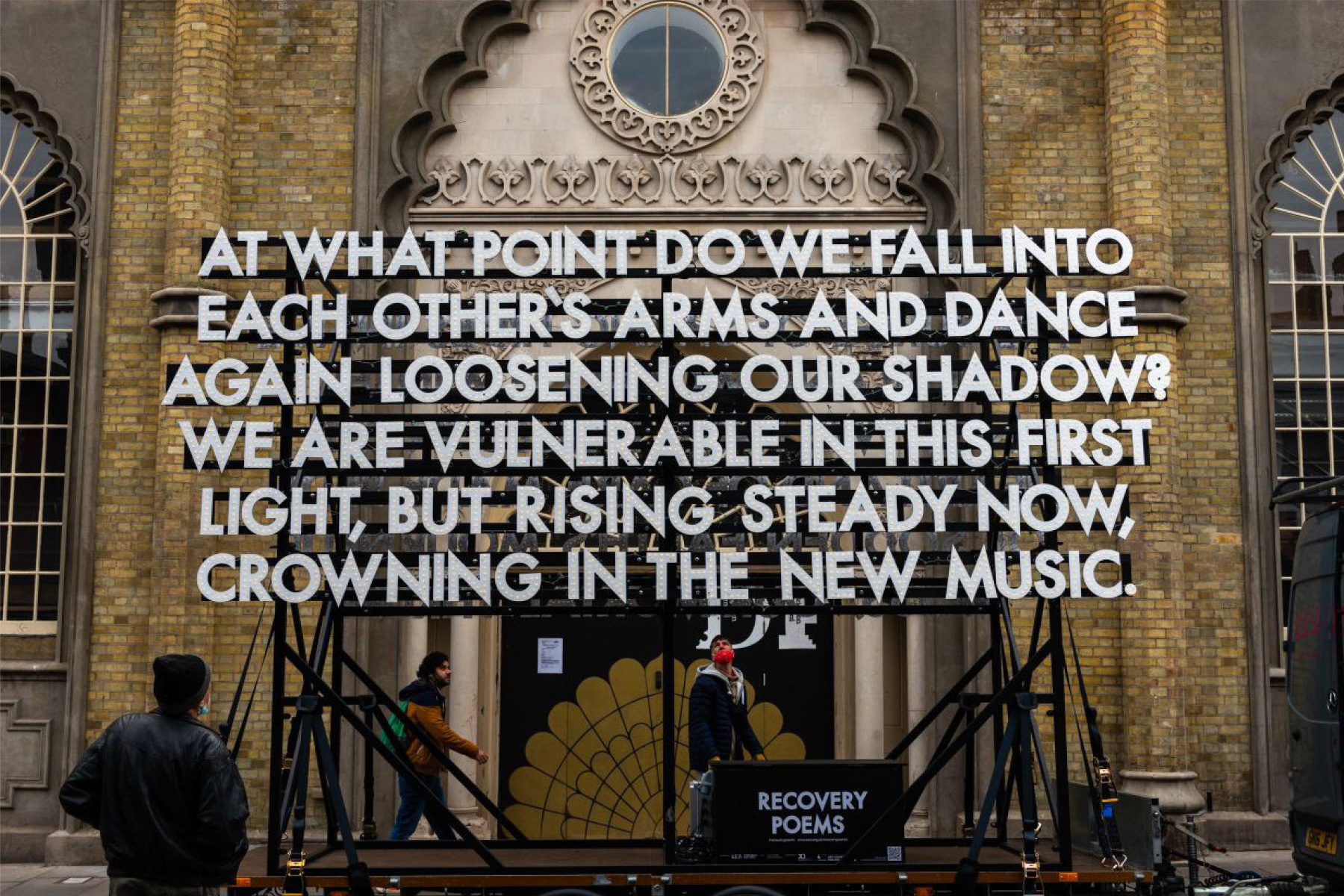 This touring, large-scale light poem can be seen outside Grimsby Minster between 5.30pm and 7pm.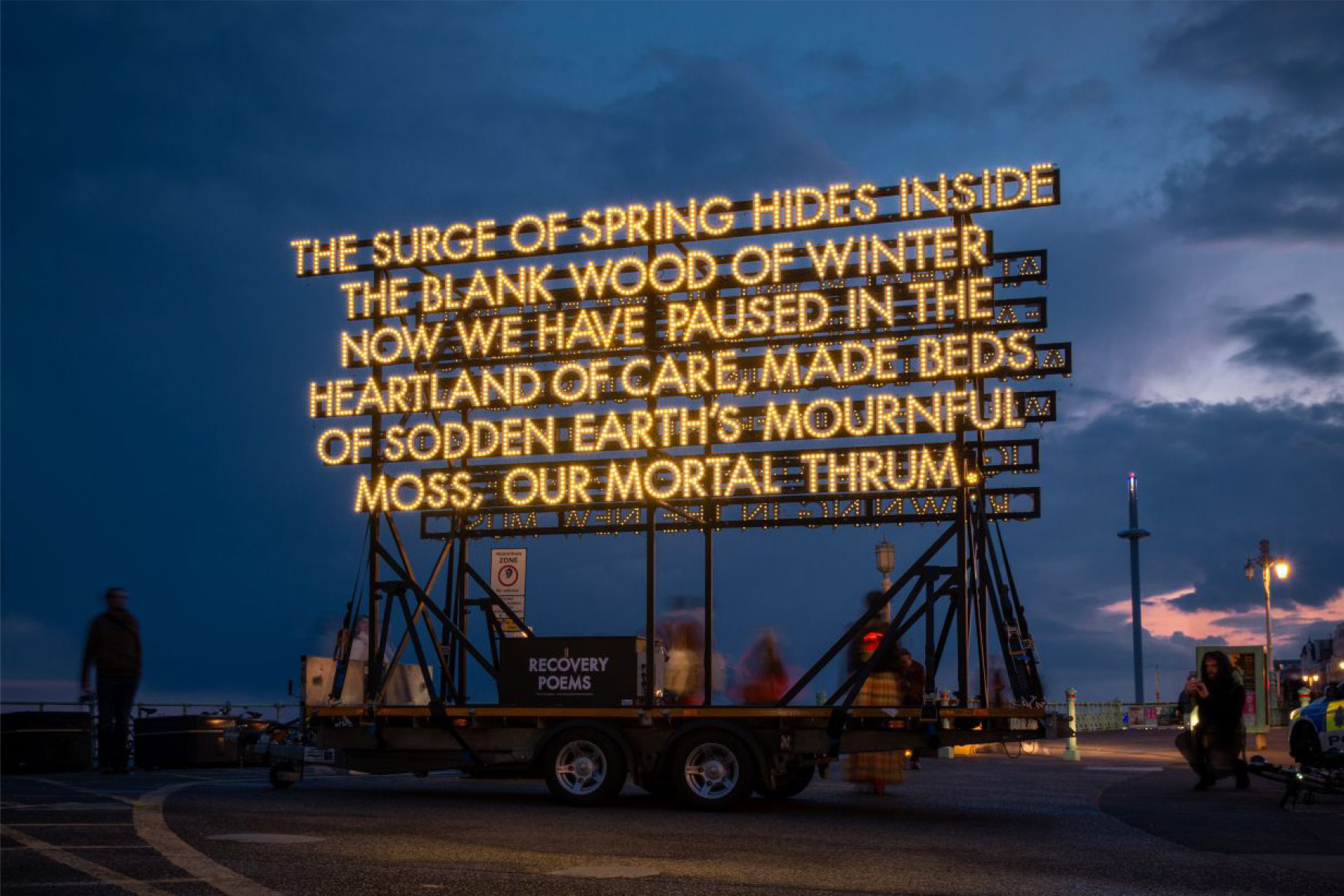 "This collaborative poem began with a conversation between strangers. Robert and I, not knowing each other before, conversed specifically and candidly about where we are at now (family, work, sense of home) and where we have come from; our family history, and upbringing. This lent a consideration to our writing of 'what happens next?' How we hold this global experience, what we root it in and how we make sense of it to retell it. I hope strangers meet the Recovery Poems and are encouraged by it to write and share their stories of this time"
Deanna Rodgers, Recovery Poems
Produced by Emergency Exit Arts with Deanna Rodger and Robert Montgomery. Recovery Poems is a partnership project between Without Walls, Emergency Exit Arts, 101 Outdoor Arts, Robert Montgomery, Deanna Rodger, Thatcham Town Council
Grimsby Minster 7pm. FREE – advance booking required for spoken word event. Installation outside from 6.30pm.
In 2020, people from North East Lincolnshire penned poems in response to the pandemic that encapsulated the wide range of feeling at the time – we at The Culture House gathered some of these poems together in a collection called Lockdown Lifelines.
These personal poetic responses were happening around the country as people expressed themselves and the impact the pandemic was having on them and the world.
At the time, two London based poets Deanna Rodgers and Robert Montgomery, talked to each-other and then talked and listened to communities, looking at things like:
How do we commemorate what's been lost as we start to take tentative steps to coming out of lockdown? What do we want to hold onto and grow? What positive changes can we make to society and the natural environment as we recover from the pandemic?
Together with Emergency Exit Arts, they have now produced The Recovery Poems – an inspiring, touring, large-scale light poem.
Following visits to several community spaces in the area, The Recovery Poems will be situated in St James' Square for the evening.
Then, inside the Minster, the Moon will provide a fitting backdrop for our own reflection, as – in partnership with Hammond House publishing – we invite the local poetry and spoken word community to read their works of personal experience, observations and hopes for the future, in a free open-mic event, to which all are welcome.
Co-hosted by Culture House director Charlotte Bowen and Ted Stanley, founder of Hammond House. The Minster cafe will be open.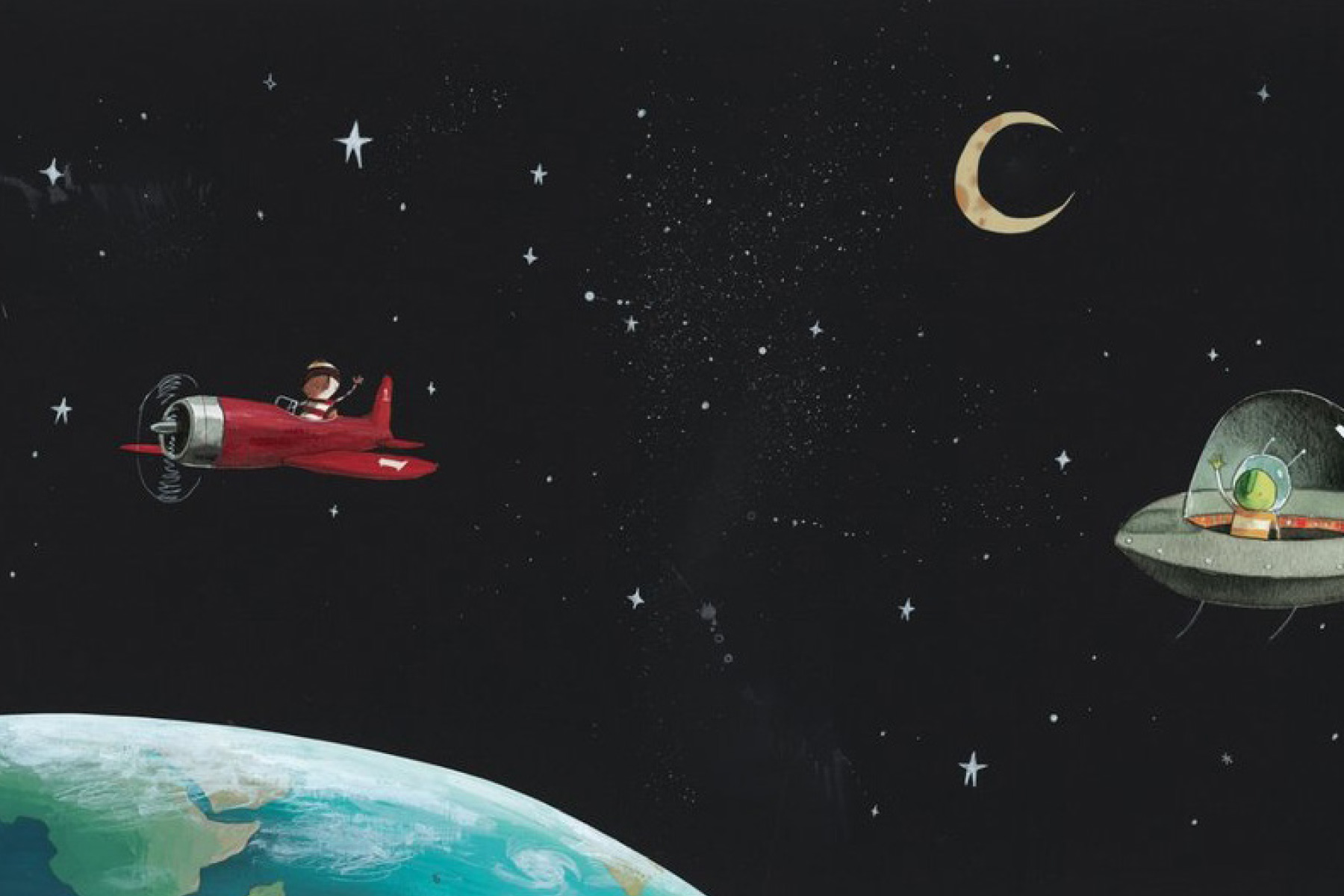 Grimsby Minster 9:30am – 10.30am. Suitable for children aged 2-5 and their parents or carers. FREE – advance booking required.
One day a boy finds an aeroplane in his cupboard. Up, up, up and away he flies, high into the sky. Whizzing past clouds, stars and planets until suddenly, he runs out of petrol. Miles from Earth, the boy crashes onto the moon and waits.
Join Kirsty from Rhubarb Theatre as we use storytelling, movement, music & craft, to take you on a journey 'out of this world'.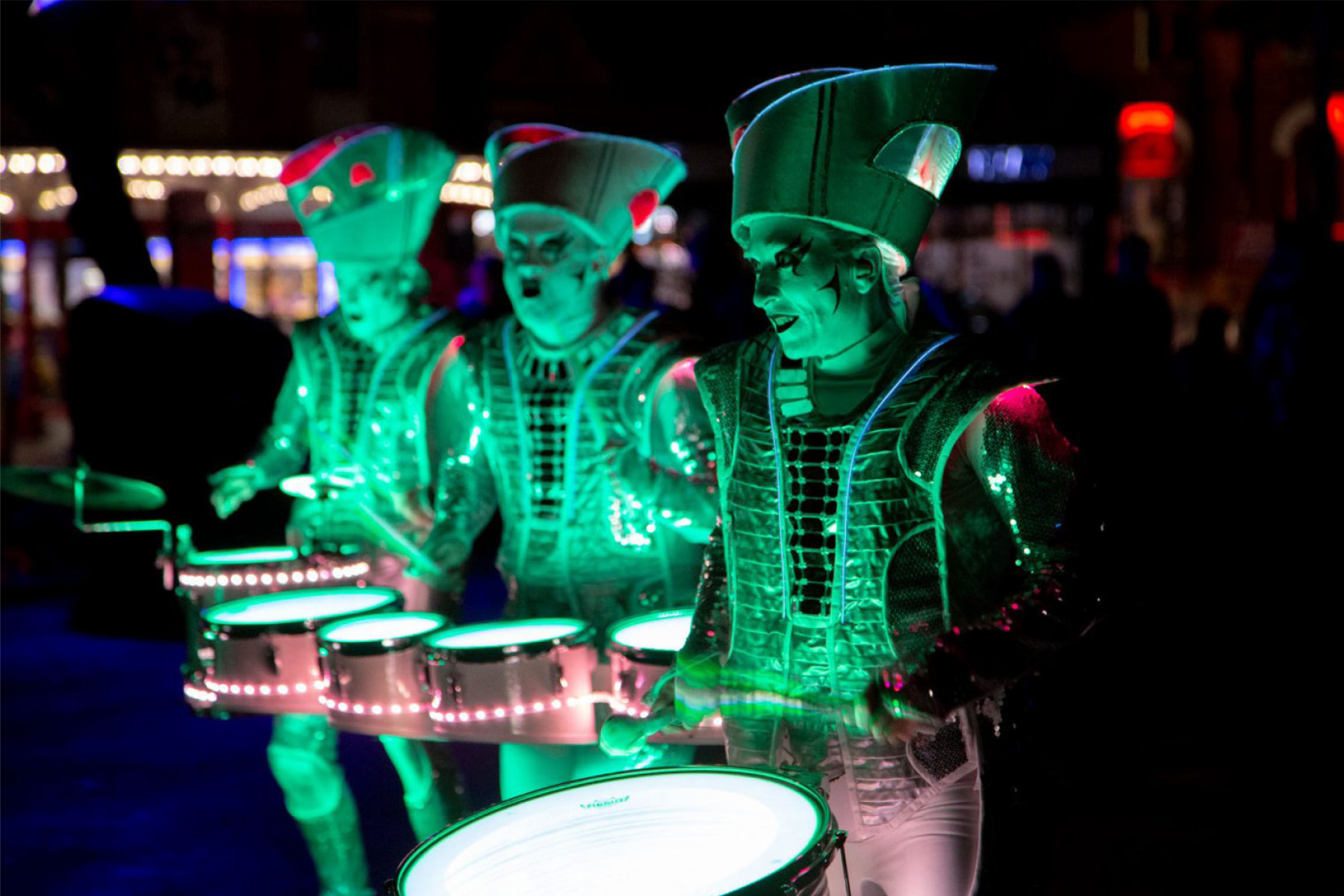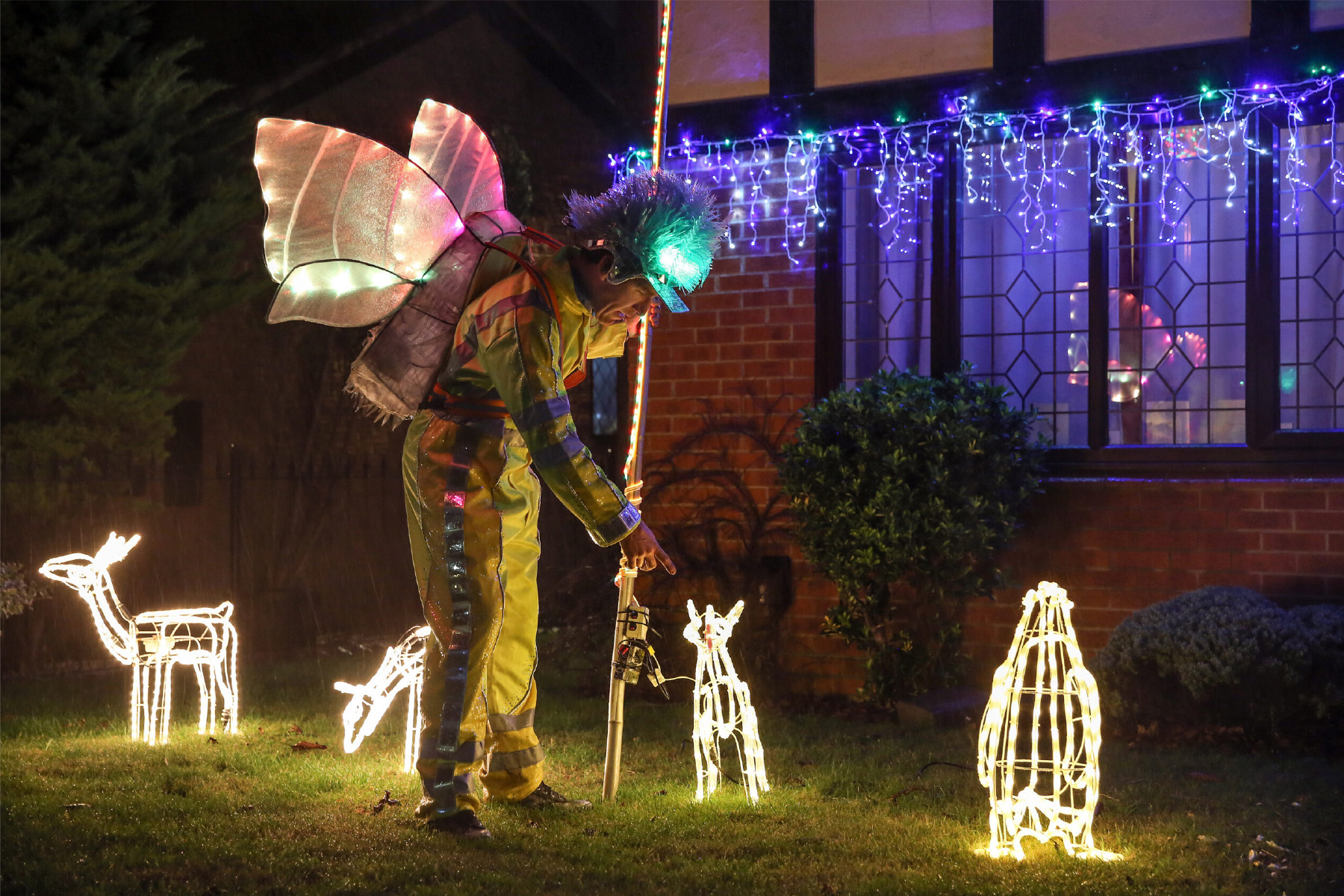 River Freshney / Duke of York Gardens area 6pm & 7.30pm. FREE – just turn up and enjoy!

See the outstanding World-Beaters drummers with their show Spark! at Duke of York Gardens on the evening of Friday 26 Nov at 6pm and 7.30pm, when Moths at Work will also be flying around and lighting up streets and front gardens.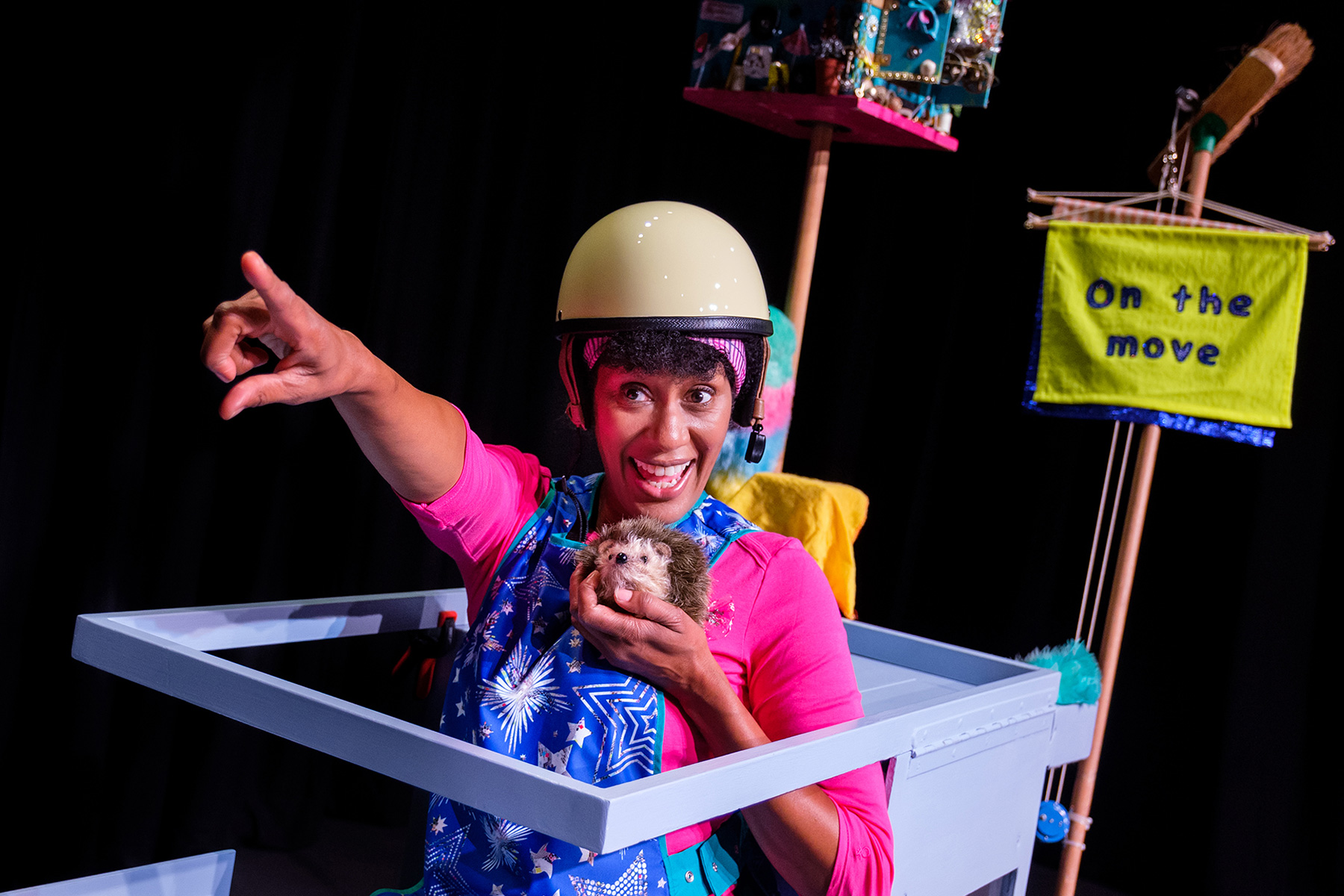 Birdhouse presents
Mavis Sparkle by M6 Theatre Company

Grimsby Minster 11am & 1.30pm. For ages 4 – 11. Adults and children £5.
We invite younger children and their parents / carers to enjoy a wonderful seasonal theatre production with Luke Jerram's Museum of the Moon as a fitting backdrop, making for a totally unique and heart-warming experience!
Over recent months we've learned how important key workers are and Mavis Sparkle is no exception! A cleaner with an extraordinary story to tell, Mavis is on a journey north to see nature's biggest light show with her own eyes.
With a cleaning trolley full of secrets and surprises, and a little help from Spike the hedgehog, Mavis moves ever closer to making her dream come true.
Featuring a heart-warming mix of illusion, animation and captivating performance, this life-affirming production inspires us all to be brave, dust away doubts and reach for the stars.
'Enchanting…a treasure trove of delights.'
The Stage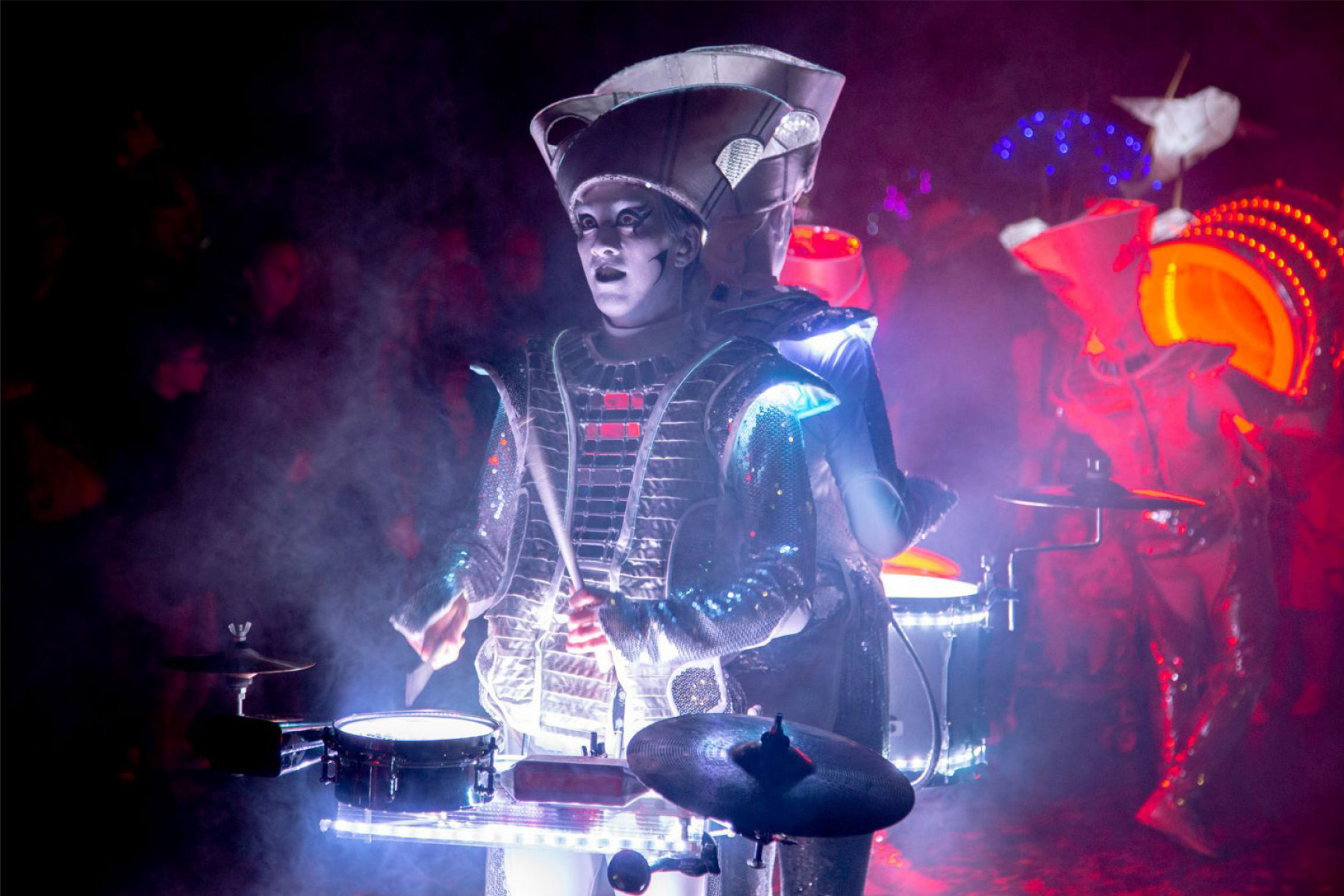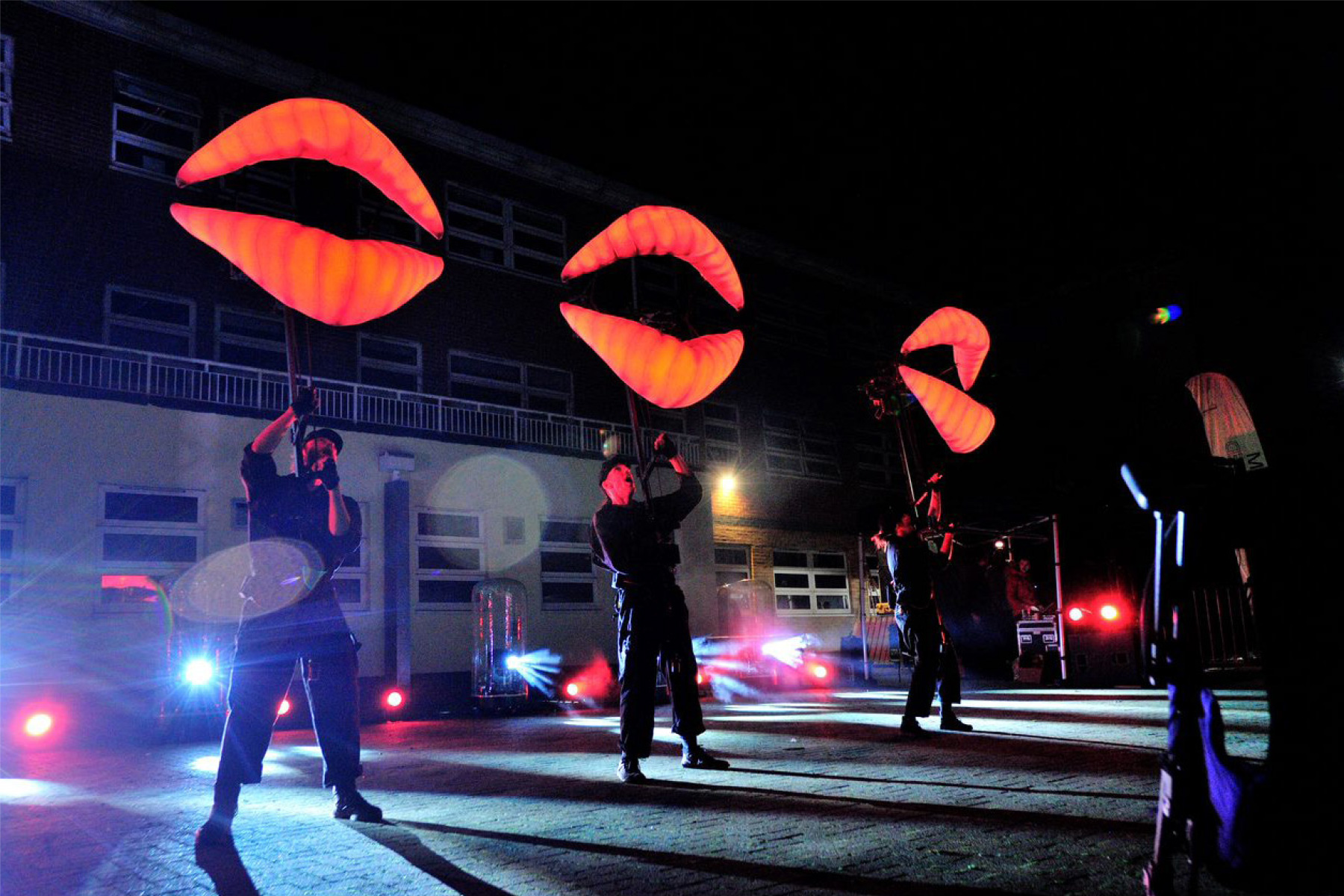 St James' Square. Outdoor evening event from 6pm. FREE – just turn up and enjoy! (Access to Minster for Made in Grimsby from 6pm – 9pm needs to be booked).

In 2019 we launched Light Gardens in Cleethorpes which was hugely appreciated by local residents and which is planned to return in 2022. As part of The Museum of the Moon programme on Saturday 27, Spark! will return for a show-stopping performance at Great Grimsby Christmas market, before heading to St James' Square in the evening, to also be accompanied by The Lips – a chorus of delightfully deviant divas whose mouths have broken free from their bodies!
A luminous outdoor 'mix-tape show' with something to say, The Lips bring to life our favourite songs, celebrate our shared love of popular music and uphold our freedom to speak out, through a big pop puppetry performance.
Inside the Minster, the Moon will provide a wonderful backdrop to more live music from a curated Made in Grimsby line-up, shining a light on our local talent from 6pm – 9pm. The Minster cafe will be open and bar available. (To ensure safety for all visitors at this indoor and outdoor event, access to the Minster for the evening of Saturday 27 November needs to be pre-booked).
SCHEDULE
14:15 – 14:45 – The Moths at Work, Great Grimsby Christmas Market

14:45 – 15:15 – The Lips, Great Grimsby Christmas Market

15:15 – 15.45 – Spark! Great Grimsby Christmas Market

17:30 – 18:00 – The Moths at Work, St James' Square

18:00 – 18:30 – Spark! St James' Square</span

18:45 – 19.15 – The Lips, St James' Square

19:15 – 19:45 – The Moths at Work, St James' Square

19:45 – 20.15 – Spark!, St James' Square

20:30 – 21:00 – The Lips, St James' Square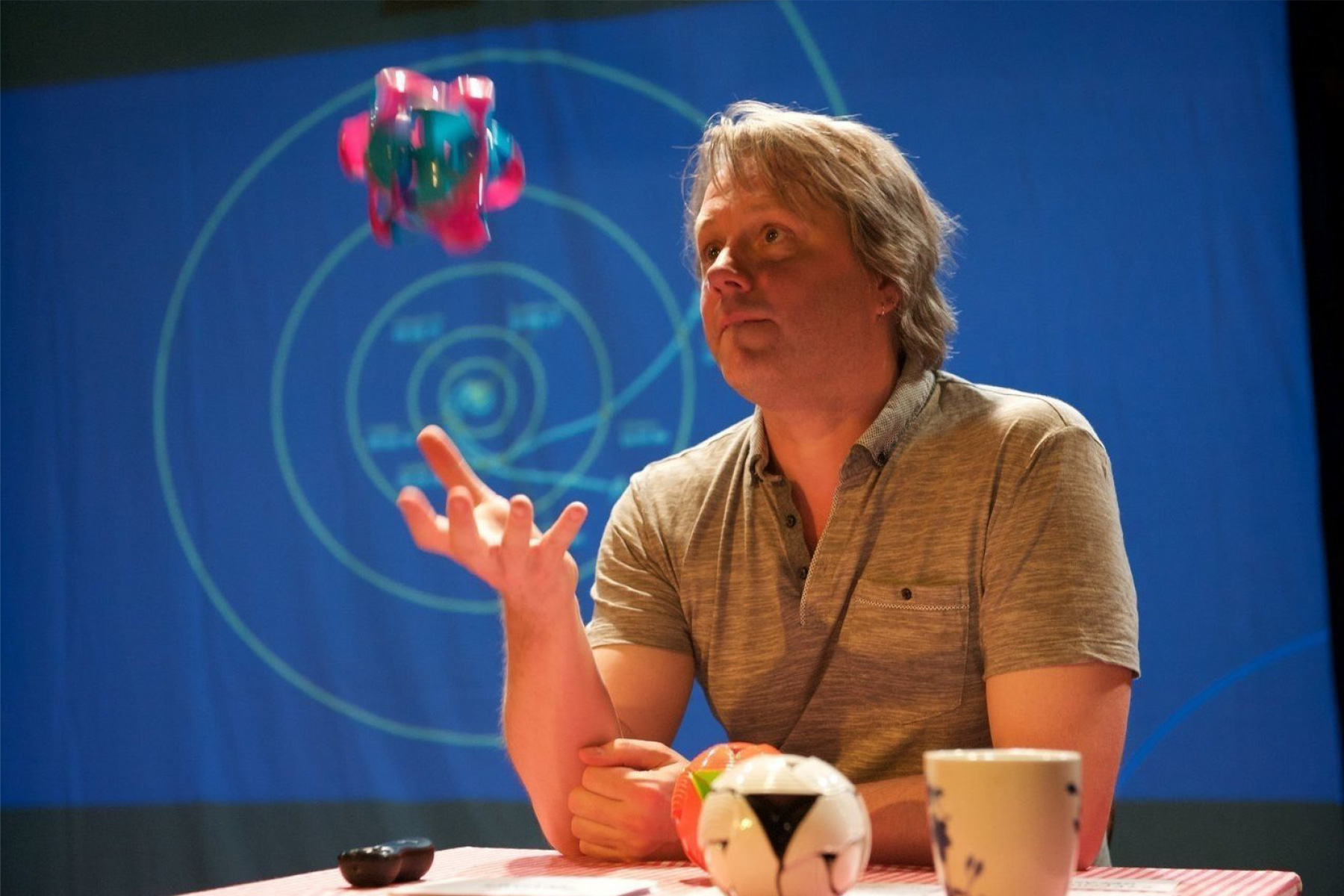 "Walking home looking up at the stars and suddenly feel very small in this big universe. Mind totally blown"600 People Audience feedback
"Like the best TED talk, only more interesting"
NE Theatre Review
Written and performed by Alexander Kelly. Inspired by conversations, and in collaboration, with Dr Simon Goodwin. Directed by Rachael Walton.
Originally commissioned for Northern Elements, a development programme funded by Arts Council England and managed by ARC, Stockton Arts Centre.
Third Angel presents
600 People by Alexander Kelly
Grimsby Minster 8pm. 60mins + Q&A. Aimed at adults although recommended for ages 12+ (due to complexity rather than content, therefore younger children can attend at parents' discretion). Adults and children £8.
"We step out of our solar system, into the universe, seeking only peace and friendship…"
So says the message from the human race on the Voyager spacecraft. But is there, y'know, anyone out there? I really wanted to know, so I went to speak to an astrophysicist to find out.
This is what I found out: Stellar Wobble. The Mirror Test. The Drake Equation. Fermi's Paradox. Enhanced humans and murderous dolphins.
Somewhere between stand-up comedy and an astrophysics lecture, Third Angel brings you a simple show about huge ideas: the story of how a three-hour conversation with an astrophysicist changed the way Alex understands the way the Universe works.
600 People explores how we think about evolution and intelligence, belief and invention, communication and space travel. A show that explores the stories we tell in order to understand our place in the cosmos. A show that asks if there are extraterrestrials in our galaxy. A show that asks what it means to be human.
Audiences are welcome to stay around afterwards for a short Q&A and to discuss life, the universe and everything.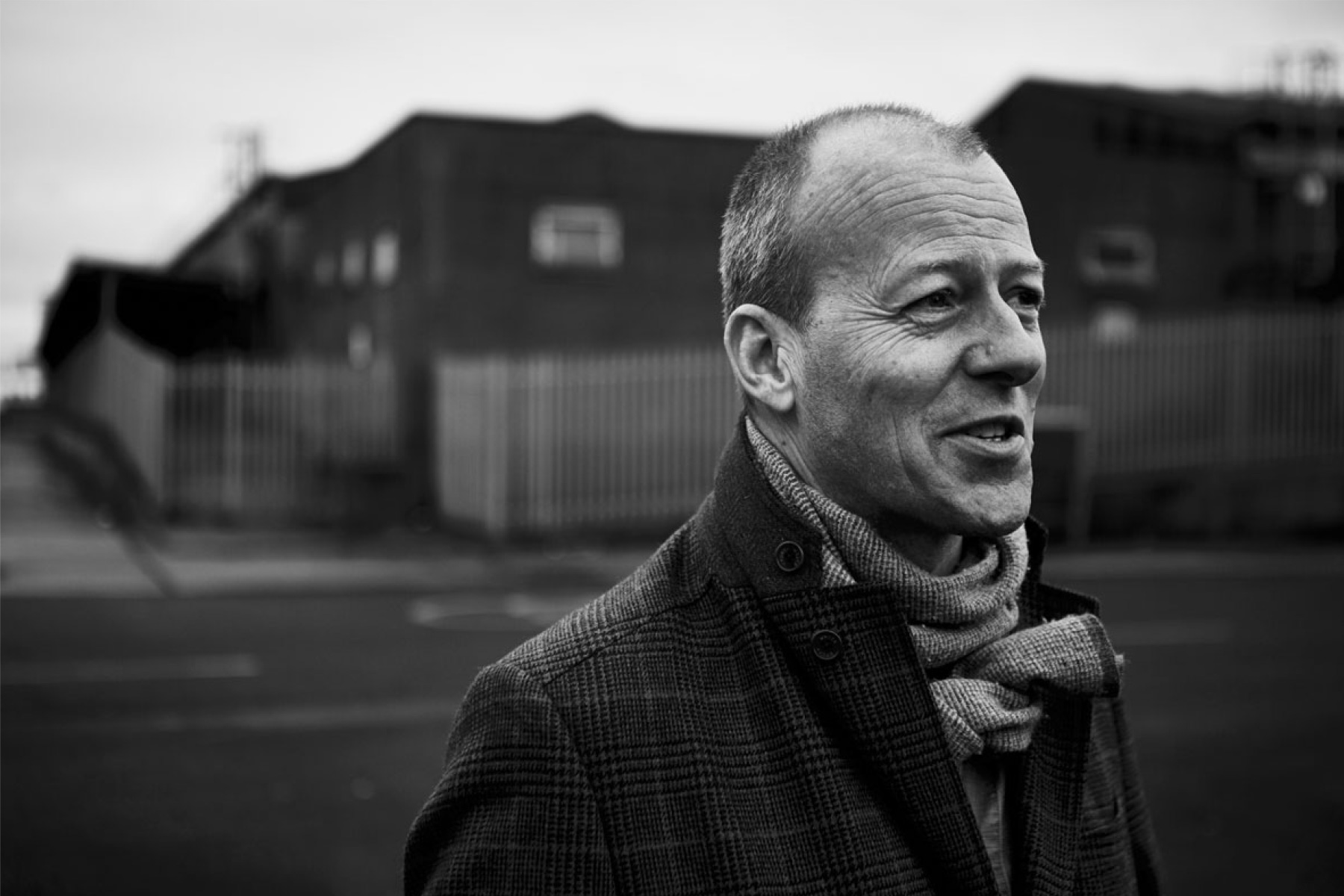 Grimbarians Live: Under the Moon
Grimsby Minster 6.30pm. FREE – advance bookings necessary.
Join Grimbarians hosting special guests in conversation about Grimsby and the history being created now.
An evening of conversation hosted by Grimbarians' very own Richard Askam who will be joined by special guests Jason Stockwood (GTFC & On Side Youth Zone Chair), Jordan Brompton (MyEnergi Founder), Bridie Salmon (Orsted Apprentice) and Charlotte Bowen (The Culture House Director).
Join us in Grimsby Minster for the chance to hear from these fellow Grimbarians about what's coming next in the Town's history, including The Culture House's new project for 2022 'The Future Starts Here'.
You'll have your chance to put your questions to the panel and meet them after the talk too. Let's join together to be a part of the future of Grimsby and join the movement.
The cafe at the Minster will be open for refreshments and you can buy Grimbarians Merchandise in a pop-up stall at the event. There will also be live music from Grimsby band 'Lola and the Cosmic Getaway' during the event, not to be missed!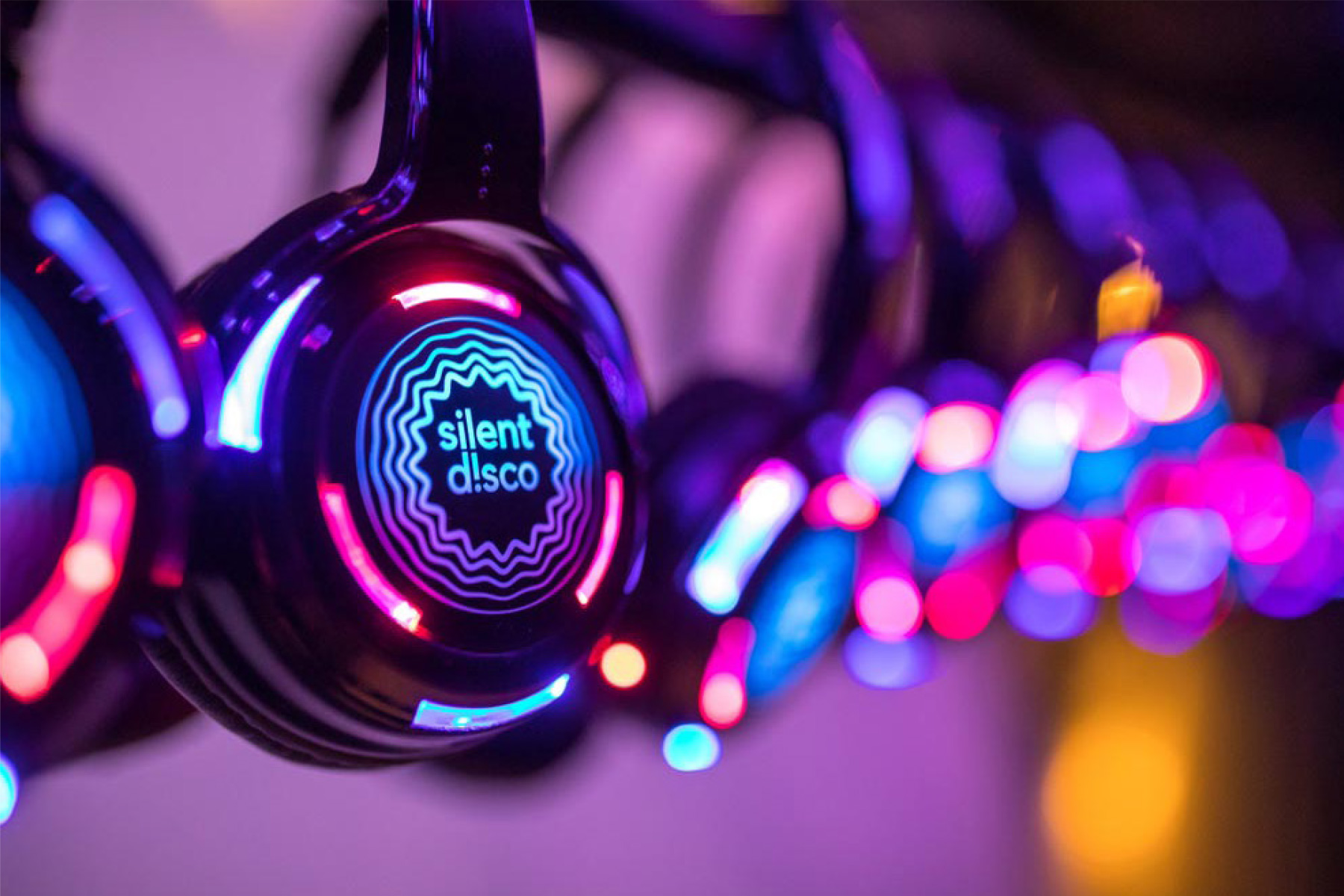 Grimsby Minster 7pm – 11pm. £6 (+£20 deposit for your silent disco headphones on the night). Age 18+. Limited spaces.
Experience the Minster like never before!
Our finest local DJs will be bringing you Soul, Funk, House, Reggae, Indie and World Music for this event under the Moon, where you can let loose in your own personal disco bubble!
Bar available.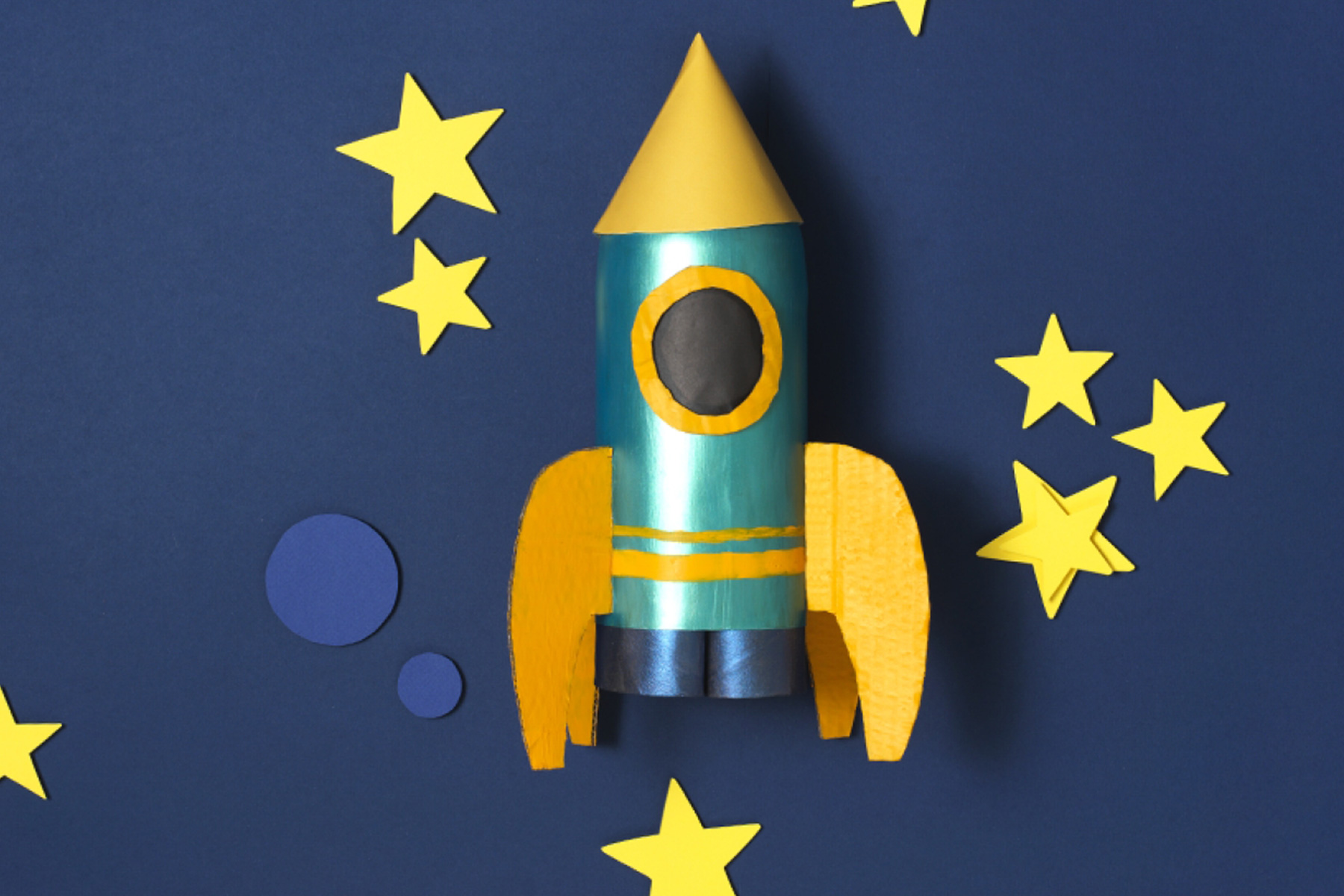 Saturdays 20 November – 18 December
Grimsby Minster, see below for details.
FREE 'SPACE CRAFTS' and creative activities for children are offered as part of the Museum of the Moon programme* on the following days.
Saturday 20 November 10am – 1pm and 1pm – 4pm

Saturday 4 December 10am – 1pm

Saturday 11 December 10am – 3pm

Saturday 18 December 10am – 1pm
*Access to the sessions is only through booking a Moon slot, except for Saturday 11 Dec when the Original Emporium's Maker's Market is being hosted and is open access.